Via Scoop.it – human being in – perfección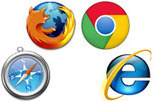 Modern Web browsers on both mobile devices and PCs now support HTML 5, including HTML 5 canvas rendering. We show you how to get the most out of your browser with a little testing and tweaking.
Contemporary browsers are much more than just a window into the World Wide Web: Browser developers have turned the software into sophisticated application platforms in their own right. But browsers are not the same as hardware platforms–rather, they function as virtual environments accessible from a variety of platforms. For example, you can have Google's Chrome browser on Windows, Mac OS, Linux, and Android devices.
The current set of Web browsers–Chrome, Firefox, Opera, Internet Explorer, and Safari–support assorted standards, including HTML 5, the latest version of HyperText Markup Language. HTML 5 is an ambitious extension of HTML, incorporating an array of features. The standard is still in flux, however, and the World Wide Web Consortium hasn't finalized it yet. Some of the important new features in HTML 5 include canvas rendering, tighter integration of SVG (scalable vector graphics), and video and audio tags. These new elements are specifically designed to make it easier for Web developers to present and manage multimedia content. What HTML 5 currently doesn't have is a built-in standard way to handle 3D graphics.
Whenever new, competing platforms emerge, it's natural to try to compare their performance. After all, users want the most robust and most responsive environment for running their applications, whether those apps are for productivity, entertainment, or education. The problem is that Web applications themselves are in a state of flux, as is the state of benchmarking Web browsers.
What I'm going to cover in this article won't tell you what the fastest browser is, nor what the best hardware might be for those browsers–that will come later. Today, I'll dive into the complexities of benchmarking browsers, look at a few examples of benchmarks, and help you understand where performance testing currently stands when it comes to these new virtual platforms. By the end of this article, you will know how to benchmark and optimize your browser for HTML 5 applications. Leer más "How to Benchmark Your Browser for HTML 5"