Gabriel Catalano human being | #INperfeccion® a way to find new insight & perspectives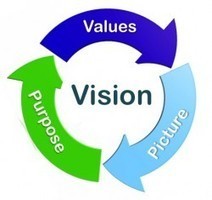 Values must support your organization's purpose and desired future. Ask first, "What are our values?" Then ask, "Do our values enable us to fulfill our purpose and our potential?
"Vision is a clearly articulated, results-oriented picture of a future you intend to create. It is a dream with direction." In short, vision is a combination of three basic elements: 1) a significant purpose, reason for existence, 2) a clear picture of the future, and 3) the underlying core values.
In my last two posts, I discussed the elements of purpose and picture of the future. This post focuses on the third element – values.
Our values are our deeply held beliefs about what is right and good, evoking standards that we care deeply about. They drive our behaviors and decisions, trigger our emotions, and can fuel a passion that drives commitment, even in the face of obstacles and change.
An engaging vision, one that captures our hearts, does so because it clearly resonates with our core values. When a group of people discover they share the same values, there is a significant increase in energy, commitment and trust.
Values must support purpose…   Continuar leyendo «To Create an Enduring Vision, Values Must Support Purpose»