See on Scoop.it – Gabriel Catalano human being | #INperfeccion® a way to find new insight & perspectives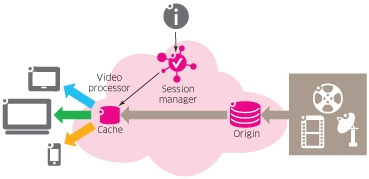 Because content delivery networks (CDNs) are at the heart of next-generation IP video infrastructure, they are the logical place to add personalization. With the right approach, service providers can take advantage of the CDN replication model while delivering personalized content. At the same time, they can ensure the network scales to achieve quality expectations.
There are many good reasons to personalize content, including :
– Targeted ads
– Emergency alerts
– Blackouts
– Quality adjustments
To take control of the delivery mechanism, service providers must build a server-side version of the client-based adaptive streaming concept. Introducing two new components will bring more intelligence and processing power into the CDN to improve overall HTTP behavior and performance:
A session manager retrieves the contextual information needed to customize the content and tell the cache in the CDN which changes to apply to the content.A video processor in the cache generates the new content to be sent to end users based on the original content and the information delivered by the session manager.
See on www2.alcatel-lucent.com