Gabriel Catalano human being | #INperfeccion® a way to find new insight & perspectives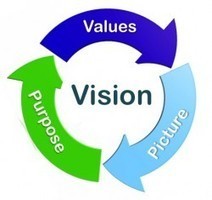 Values must support your organization's purpose and desired future. Ask first, "What are our values?" Then ask, "Do our values enable us to fulfill our purpose and our potential?
"Vision is a clearly articulated, results-oriented picture of a future you intend to create. It is a dream with direction." In short, vision is a combination of three basic elements: 1) a significant purpose, reason for existence, 2) a clear picture of the future, and 3) the underlying core values.
In my last two posts, I discussed the elements of purpose and picture of the future. This post focuses on the third element – values.
Our values are our deeply held beliefs about what is right and good, evoking standards that we care deeply about. They drive our behaviors and decisions, trigger our emotions, and can fuel a passion that drives commitment, even in the face of obstacles and change.
An engaging vision, one that captures our hearts, does so because it clearly resonates with our core values. When a group of people discover they share the same values, there is a significant increase in energy, commitment and trust.
Values must support purpose…  
The core values of BMW – outstanding engineering, quality and reliability – make sense because the mission of BMW is to provide premium products, premium services, and premium experiences for individual mobility.
Disney theme parks and cruise lines need a different set of core values to effectively fulfill its purpose—safety, courtesy, entertainment ("The Show"), and efficiency.
Since the purpose of CNN is to provide live news coverage as it unfolds, the need values of being fast, accurate, and responsive to news-needs of the public.
Because BMW caters to a select clientele, being responsive to the needs of the general public would make no sense for them. Safety might be important for CNN, but it is not a core value because reporters need to take risks at times to get to the news. I expect my accounting firm to value accuracy, not "The Show."
An organization's culture is shaped by its values and expressed through actions.
High performance organizations embed their values through their formal and informal practices, policies and procedures. For example, in support of their value The Show, people who work at Disney are called "Cast Members," (rather than employees), no matter what their role. Their values are central in new employee orientation, leadership training, and reward systems.
Unfortunately, too often organizations articulate values they aspire to but which are not being lived. Values are embedded in the fabric of the organization, and the real values can be easily identified though observation. (See Five Easy Ways To Tell If An Organization Is Really Values-Driven).
See on seapointcenter.com