See on Scoop.it – Gabriel Catalano human being | #INperfeccion® a way to find new insight & perspectives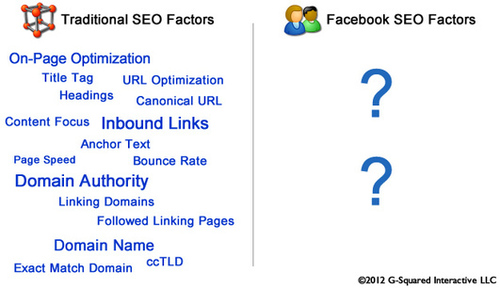 New Search Engine, New Ranking Factors.
Facebook Search ranking factors could indeed be much different than traditional SEO factors. And that can have a huge impact on how digital marketers work, especially how it relates to SEO, social media marketing, and paid search.
Until Facebook launches a serious search engine, SEOs will continue executing, analyzing, and refining their efforts based on a number of SEO ranking factors related to websites, webpages, links, on-page optimization, domain authority, etc.
Sure, Google and Bing continually update their algorithms, but we know that on-page optimization is important, building high-quality links is important, pumping out high-quality and unique content is important, etc.
So, what happens if a big player jumps in the game with a completely different set of ranking factors?
What if Facebook launches a killer search engine? What will it look like and how will it work? And more importantly for digital marketers, what will the ranking factors be?
Full Article Here: http://www.searchenginejournal.com/facebook-seo-beastrank-ranking-factors-facebook-search-engine/49696/
See on www.searchenginejournal.com