See on Scoop.it – human being in – perfección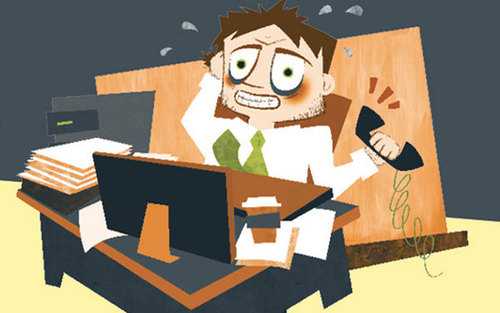 Are you stressed at work? You're not alone: A recent Gallup poll indicates that on-the-job pressure is the top reason for employee dissatisfaction in the American workforce, and nearly half of American workers say their job is "very or extremely stressful."
And whether you notice it or not, you're broadcasting clear signs that should indicate to your employer that you are overworked and need a change of pace. The infographic below, developed by Column Five in conjunction with employee wellness company Keas, shows exactly how employees behave when they've been pushed to their limits. Workers tend to develop classic symptoms when their workload gets too much to bear, such as poor memory, fatigue and bad time management. They also exhibit odd behaviors, working too much or too little in response to the level of stress in the workplace. Employers should be watching for these key symptoms and redirecting overworked employees to a more manageable situation.
Of course, the consequences of ignoring these signs can be major — 66% of employees suffer from stress-induced health issues, including but not limited to high blood pressure, headaches, sleeplessness and more frequent periods of sickness. Overworked employees are also more likely to have drastically decreased productivity and play hooky than those who are satisfied with their workload. The overall result is clear: Overworked and stressed workers are never good for a company.
Check out the infographic below for an inside look into how overworked employees behave — and how it all can be fixed. Do you ever feel stressed at your job? Let us know in the comments.
See on mashable.com