Via Scoop.it – human being in – perfección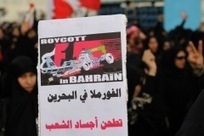 Amnesty International paints a far different picture, however. In a report released Monday, the London-based human rights group said not much has changed in Bahrain since authorities violently cracked down on the tens of thousands of protesters who took to the streets during the Arab Spring uprising of early 2011 to demand a greater political voice in the country. The report notes that the Bahrain Independent Commission of Inquiry, set up by the government to investigate the crackdown, found that authorities committed "gross human rights violations," including excessive use of force against protesters and widespread torture. But the government's attempts at reform since then have been "piecemeal," the group said. "The Bahraini authorities have become more concerned with rebuilding their image and investing in public relations than with actually introducing real human rights and political reforms in the country," the report reads.
Amnesty said that violence against protesters continues unabated and hundreds of protesters remain in prison after being tried by military courts and receiving harsh prison sentences. Among them are eight opposition leaders who were sentenced to life in prison for "plotting to topple the government," including Abdulhadi al-Khawaja, founder of the Bahrain Center for Human Rights, who has been on a hunger strike for more than 60 days and was last week described as being in a "very critical" condition, according to Denmark's prime minister. (Al-Khawaja has dual Danish-Bahraini citizenship and Denmark has been pressing Bahrain to release him to its custody.) Numerous protests have been staged in recent weeks demanding al-Khawaja's release—and on Sunday, opposition leaders announced a week of pro-democracy protests leading up to the Formula One race.
Read more: http://keepingscore.blogs.time.com/2012/04/17/as-protests-continue-to-flare-should-formula-one-be-returning-to-bahrain/#ixzz1sIJk9Sgg
Via keepingscore.blogs.time.com