Via Scoop.it – human being in – perfección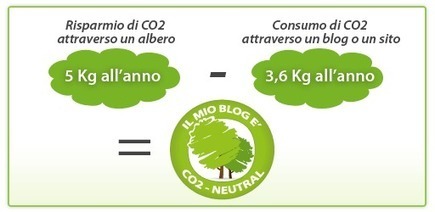 Forse non tutti sanno che in media un sito internet si fa carico ogni anno dell'emissione di 3,6 kg di CO2, a fronte di ciò invece un albero è in grado di assorbirne fino a 5 kg all'anno. Il bilancio finale è a favore dell'ossigeno.
Io no, non lo sapevo. E voi?
L'ho letto sul sito di doveconviene.it che aggrega tutti i volantini promozionali e li rende consultabili online, proprio per contribuire alla diminuzione dell'utilizzo e spreco di carta per scopi pubblicitari. Mi hanno contattato per questa interessante iniziativa dedicata ai blogger ed io partecipo molto volentieri.
L'iniziativa è molto semplice: per ogni blog che aderisce al progetto, DoveConviene pianta un albero la cui produzione di ossigeno andrà a compensare le emissioni di anidride carbonica prodotte dal sito. Un blog a impatto zero insomma e quindi "carbon neutral".
Per chi vuole approfondire nel dettaglio il progetto può visitare il sito di "I plant a tree".
Non bisogna per forza essere attivisti di Greenpeace per essere degli ambientalisti, in fondo bastano poche azioni quotidiane per uno stile di vita ecosostenibile. Si può cominciare dalle piccole cose, ad esempio riciclando i depliants che si trovano nella cassetta della posta o che troviamo in giro, negli appositi contenitori per la raccolta differenziata e consultando online le offerte.
Io l'ho sempre fatto e non è solo ecologico, ma è anche comodo: potete confrontare le offerte di tutti i negozi, e consultarli ovunque siete. Magari scaricare i pdf sul cellulare o consultarli tramite un app. Spesso sugli stessi siti ci sono anche promozioni e buoni sconto.
Per l'Italia c'è Doveconviene.it e tuttiprezzi.it per Roma. Per la Francia ci sono Promo-Conso, Pubeco e Prospectus chez moi. Ma sono certa che troverete qualche sito simile anche nel vostro paese.
Intanto perché non cominciare a cercarlo?
***
Perhaps not everyone knows that an average website is responsible of the emission each year of 3.6 kg of CO2, compared to this it is instead a tree can absorb up to 5 kg per year. The final balance is in favor of oxygen.
I did not know. And you?
I read it on the website doveconviene.it, which aggregates all the promotional flyers and makes them available online, just to help diminish the use and waste of paper for advertising purposes. I was contacted for this interesting initiative dedicated to bloggers, and I participate gladly.
The initiative is very simple: for every blog that joins to the project, DoveConviene plant a tree whose oxygen production will compensate for the carbon emissions produced from the site. A blog with zero impact and therefore "carbon neutral".
For those who need more details on the project can visit the site "I plant a tree".
Not necessarily have to be activists of Greenpeace to become environmentalists, basically it's enough to do few daily activities and have a sustainable lifestyle. You can start with small things, such as recycling brochures that are in the mailbox or you've found around, in the containers for recycling and consulting online offers.
I've always done this and is not only environmentally friendly but is also convenient: you can compare offers from all the shops, and read them wherever you are. Maybe download the pdf on your phone or read them through an app. Often there are websites with also promotions and discount coupons.
For Italy there is Doveconviene.it and tuttiprezzi.it for Rome. For France there are Promo-Conso, Pubeco and Prospectus chez moi. But I'm sure you'll find some similar website in your country.
Meanwhile, why you not begin with looking?
Via cappuccinoebaguette.wordpress.com