Via Scoop.it – human being in – perfección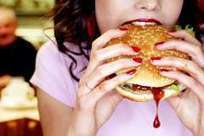 Can food really be as addictive as drugs? In an impassioned lecture at Rockefeller University on Wednesday, Dr.
Many experts dismiss food as an addictive substance because it doesn't lead to most people behaving like addicts — compulsively seeking food despite negative consequences. So, the reasoning goes, food can't be as addictive as a drug like crack cocaine.
What that fails to recognize, however, is that crack cocaine itself isn't as addictive as is commonly believed. "If you look at people who take drugs, the majority are not addicted," Volkow said. Indeed, even for drugs like crack and heroin, fewer than 20% of users become addicted.
In contrast, if you look at the proportion of people who are currently obese — some 34% of adults over 20 — it's a significantly larger group.
Read more:
http://healthland.time.com/2012/04/05/yes-food-can-be-addictive-says-the-director-of-the-national-institute-on-drug-abuse/?iid=hl-main-lede#ixzz1rCy14MTH