Via Scoop.it – human being in – perfección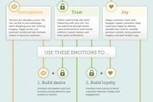 Media and publishing professionals know that infographics are hugely popular, and are more likely to be shared via social media than a standard blog post or article. By combining images with data, infographics get much more mileage than text or graphics alone. You can use them for news, presentations, or press releases on your company blog or website to attract publicity and show off your expertise.
Companies without a graphic designer on board or on budget couldn't easily take advantage of infographics in the past. However, thanks to online chart and map creation tools, any business can now turn an interesting concept into an engaging infographic. Here's how to get started, along with tools that can step you through the process.