Via Scoop.it – human being in – perfección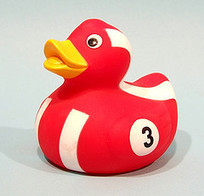 Good Morning, Social Rabbit here with your guide to the world of social media.
This weekend I have been hanging out with a friend of mine and her 15 month old daughter in Tasmania. With Easter coming up in only 6 days I thought ducks were a great topic to talk about!
As someone who doesn't have children it always amazes me when I hang out with babies the amount of repetition is needed for them to understand and indeed how much they like the repetition. This weekend has been no different!
The baby is MAD about ducks, absolutely mad about them, and if she sees one says "duck" lots of times, not just the once. She doesn't have that many words in her vocabulary as yet, so the ones she does know get repeated A LOT!
I managed over the last 3 days to teach her my name, I probably had to say it to her about 50 times, maybe more…. but after 3 days of hard work (on both our parts I'm sure) this morning I was pointed at and told my name – wooohooo!