Via Scoop.it – human being in – perfección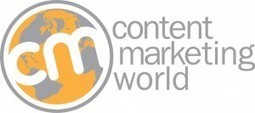 In no particular order, here are 10 things I'm excited about when it comes to #cmworld 2012:
Amazing brands telling their stories – Last year, our attendees loved the fact that actual brand marketers spoke about how they were creating and distributing content to attract and retain customers. So, how did we one-up 2011? This year's event includes marketing executives from Google, Sears Holdings, Kraft, SAP, Intel, Dell, Kelly Services, SAS, Sybase, Openview Venture Partners, MasterControl, IBM and many, many more (we're still working on a few more very exciting brands).
A literal "who's who" of content marketing experts – You simply cannot make this stuff up. Every one of these speakers have keynoted some of the largest events around the world…speakers like Jay Baer, Ann Handley, Mike Stelzner, Brian Clark, C.C. Chapman, Jason Falls, Andrew Davis, Ardath Albee, Robert Rose, Scott Abel, Lee Odden and more. I am humbled by the fact that these amazing people have so willingly devoted their time to sharing their knowledge at Content Marketing World.
Amazing Keynotes – including an unforgettable presentation from Mitch Joel (often called Canada's Seth Godin), Google's Sam Sebastian, and our #1 rated speaker from last year, Marcus Sheridan. If you've never seen Marcus in person, here is your chance. (PS – We have a couple more keynote surprises on the way.)
Five unbelievable workshops – Last year, we sold out of our only workshop and had attendees asking for more. This year, we've added an additional four workshops including Content Marketing 101, Content Marketing for Non-Profits/Associations, Growing Your Content Marketing Agency, Building Your Buyer Personas, and Managing the Webinar Lifecycle.
Rick Springfield – enough said.

CBUS – Columbus is a truly amazing city, now the 15th largest in the US (most people don't know that). And considering that we are in The Ohio State University's backyard (Final Four Finalist), that has to be good karma.
The Agenda – Over 40 sessions, 70 speakers and literally every content marketing challenge answered, from B2B, B2C, small business, social media, content discovery, content distribution, content marketing strategy, process and more.
Orange – If you thought you saw a lot of orange last year, you ain't seen nothing yet. We can't get enough of the color orange (and to our wonderful surprise, orange is 2012′s color of the year).
The Sale – The last three marketing conferences I attended, the event hotel rate was an average of $315 USD per night. Our rate is $129 USD per night. Yes, you are seeing that right. Take that to your approving manager (hey, if you need to justify your trip, here's a helpful form).
99%+ – In our exit surveys, there was only one person who attended CMW 2011 that said they would not return in 2012 (they just didn't appreciate That Kevin Smith). We were simply amazed by the awesome testimonials from last year's conference.