Via Scoop.it – human being in – perfección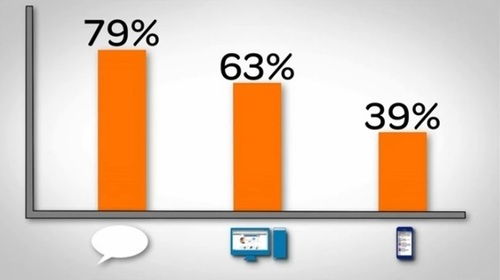 While smaller businesses are slowly getting to grips with the different number of social media sites available, a new report shows that while more businesses are integrating social media into their business, other methods of communication and marketing are held in much higher regard for networking and marketing.
According to the 2012 AT&T Small Business Technology Poll, 39 per cent of small businesses rely on social media to promote their business but they place greater importance on their company website (63 per cent) and on word of mouth (79 per cent).
The poll, which surveyed more than 1,200 small businesses with two to 99 employees across the U.S., found that those with a presence on LinkedIn increased from 25 per cent in 2010 to 31 per cent in 2011, while those with a Facebook presence increased slightly from 41 per cent in 2010 to 44 per cent. However, Twitter is beginning to decrease in popularity with small businesses, but only slightly, with a drop of 1 per cent to 18 per cent for 2011.
An eye catching statistic involves the attitude of gender demographics towards social media. While male business owners are more likely to rely on their company website for marketing than female owners (65 per cent vs. 58 per cent), female owners are more likely to rely on social media for promotion (48 per cent vs. 34 per cent). This suggests that female owners are more interested (or comfortable) in talking with their fans and followers online, whereas male owners prefer their website to do the talking for them instead.
Smartphone Usage
Other interesting statistics revolve around the use of smartphones and tablets, nearly a third of the small businesses surveyed (31 per cent) have a mobile website (75 per cent have a general website). In line with this, 85 per cent of small businesses reported using smartphones for their operations, and around 43 per cent of small businesses report that all of their employees use wireless devices or technologies to work away from the office, a jump of nearly 80 per cent over the past three years.
Those last few statistics are striking as you would imagine that many small business owners work well beyond the usual 9 to 5 hours, using their smartphones and tablets to stay connected even when they leave the office. Owners and workers of small businesses must be careful not to spend too much time on work matters outside hours out, while being footloose has its advantages, not taking time to switch off could, in the worst case scenario, cause burn out and affect your business in the long run.
To summarise, AT&T compiled two videos containing highlight of the poll's most noticeable statistics, which you can view below.