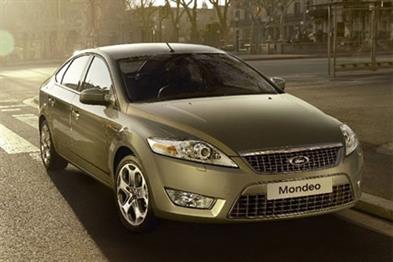 Ford Mondeo: readies TV campaign
The pan-European push uses X-ray imagery to show "under the skin" of a range of creatures, including a zebra and a stingray, before revealing the hidden technological strengths of the Mondeo, which is to be updated next year. The ads, which carry the tagline "True beauty comes from within", will break on Friday.
The campaign was created by Blue Hive, the WPP-owned agency formed in March from teams at Ogilvy, Wunderman and Mindshare specifically to handle the Ford of Europe advertising and media accounts.
Ford, which spent £2.5m on advertising for the Mondeo in 2009, compared with about £11m for the Focus and £7m for the Fiesta, last rolled out a major campaign in support of the model in 2006.
The TV ad, entitled "Desire" depicted a London skyline full of balloons with cars attached. The ad aimed to suggest that the latest incarnation of the Mondeo would usher in a new era of automotive technology.
In the UK, Ford is running an ongoing ad push to emphasise the quality of its vehicles, using the concept of the "Ford Standard". The TV, outdoor, print and digital campaign highlights features that come as standard across all vehicles in the Ford range, such as alloy wheels, keyless technology and "quickclear" windscreens.
According to Mark Simpson, Ford of Britain's marketing director, the strategy will continue for the foreseeable future.
Last month, the car manufacturer promoted its S-Max MPV model with an experiential campaign comprising two events in London and Liverpool. At these, a short film of climbers ascending an ice wall and unfurling a banner was projected onto the sides of tall buildings. The events were promoted by regional print ads, created by Ogilvy & Mather.
This article was first published on marketingmagazine.co.uk