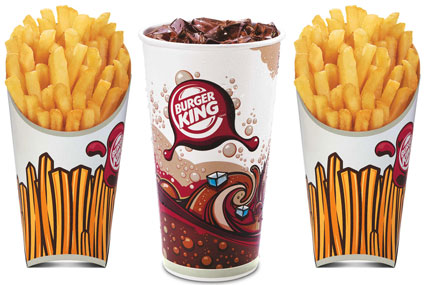 Burger King: looks to Andy Warhol for inspiration
The new design will roll out across Burger King's European markets with immediate effect and is planned to be in place by the end of 2010.
Sarah Power, marketing director, UK and Ireland for Burger King, said: «Taste is king at Burger King and our bold new packaging is yet another example of Burger King's commitment to quality and innovation throughout the world.
«Coupled with our 20/20 restaurant design, this packaging is helping us to reinforce our taste advantage.»
The new packaging draws inspiration from the Andy Warhol Pop Art movement of the 1950s, the decade which also saw the world's first Burger King unveiled in Jacksonville, Florida.
Burger King says that although the new design is based on the classic era, the new packaging designs are modern with a focus on the appeal of Burger King's menus.
The packaging has also been designed to minimize the use of copy, which makes it easier for Burger King to adopt it to international markets.
Burger King operates in 74 countries. Around 90% of Burger King restaurants are owned and operated by independent franchises.
Source:
http://www.marketingmagazine.co.uk/news/1014554/Burger-King-packaging-draws-inspiration-Warhol/