Via Scoop.it – human being in – perfección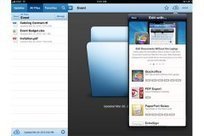 Box, the uncommonly ambitious cloud storage company that focuses on business use, is launching a service designed to let productivity apps on iOS — and, eventually, other operating systems — talk to each other.
There are lots of great productivity apps for the iPhone and iPad. I use several of them every day, and prefer them, in some cases, to traditional PC-based programs.
What there isn't is a great way to move documents and data between them. Sometimes, you can move something you're working on from one app into another — but can't move it back. Sometimes you must resort to kludges such as e-mailing a file to yourself. And while Apple's iCloud may eventually make all this easier, Apple still hasn't fully implemented it for its own productivity apps, such as Pages, let alone third-party apps.
End result: If you're trying to do useful stuff on an Apple mobile device, you end up with bits and pieces of data everywhere, and can't always get them where you want them to go. Sigue leyendo →